Sale price
€29,00
Regular price
Tax included.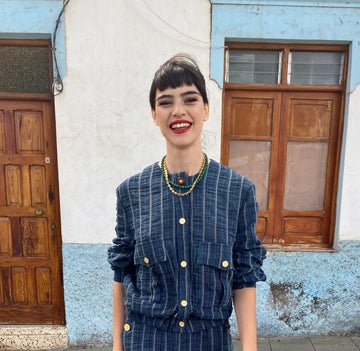 Ballerinas Denia
Sale price
€29,00
Regular price
DESCRIPCIÓN
ENVIOS
TALLAS
METODOS DE PAGO
Ballerinas woven with polished cotton in pale pink, and with an ankle strap fastening. The sole is made of flexible and breathable jute.
Each espadrille is handmade one by one and it takes an average of 8 hours for each pair.
Ballerinas available in size 38, all other sizes are made TO ORDER, if you want yours order them and within 10 days you will have them at home.
COMPOSITION
100% cotton
SHIPPING
Shipping costs are free in Spain (mainland and Balearic Islands) and from 90€ for the Canary Islands. For international shipments, we recommend you read the shipping policy. Customs charges will be paid by the customer for shipments to the Canary Islands and countries outside the European Union.
RETURNS
7.ROOMS will assume the cost of returns in Spain on purchases over 50€ on the peninsula and 65€ for the Balearic and Canary Islands. The deadline is 30 days. Products or garments made to order cannot be returned. If you have any doubts you can consult our return policy.
WASHING AND CARE
To clean the espadrilles, we recommend using a soft brush if you only want to remove dust and a slightly harder brush if you want to remove sand or mud.
To clean more complicated stains, sprinkle plenty of talcum powder on the stain, wait for it to be absorbed, remove the talcum powder and rub with a toothbrush and a little soap.
Let it air dry.
To clean the inside of the sole, use talcum powder, which absorbs humidity very well.
When storing them for a long period of time, it is advisable to fill them with paper so that they do not lose their shape. We can also put in sachets of flavoured herbs or apply a few drops of oil of natural essences that will mitigate the characteristic smell of jute.
Los gastos de envío son gratuitos en España a partir de 55€ en la península y Baleares, 90€ para Islas Canarias. Para envíos internacionales, te recomendamos leer la política de envíos. Los cargos de las aduanas correrán a cargo del cliente para los envíos a Canarias y a países fuera de la Unión Europea.
Our garments have a loose and straight cut pattern, they are loose fitting garments. From 7.ROOMS we only work with two sizes between S, which includes a 36-38, and M, which includes a 40-42.
Below we show you the correspondence:
Size S: Chest 90 / Waist from 75 / Hips from 90
Size M: Chest 105 / Waist from 105 / Hips from 105
If you have any questions, please contact us by email (contact@7rooms.es), the contact form or our chat and we will be happy to help you.
Disponemos de los siguientes medios de pago: Visa, MasterCard, American Express, Maestro, Shop Pay, Apple Pay y Google Pay.
Todos los pagos realizados en el sitio web 7rooms.es son encriptados mediante tecnología segura y los datos de tu tarjeta no se almacenarán ni serán visibles para ningún empleado.
Me encanta!
"Hace mucha ilusion que lo que compras sea tal y como esperas, diria que incluso mejor. Pocas veces compro por las webs. Felicidades por vuestra profesionalidad y buen gusto."
ESPECTACULAR
"Cómodo, elegante, original, diferente, lo mezclas todo y tienes una prenda ÚNICA Y FASCINANTE.."
AMOROSO
"Un acierto! Muy especial por los detalles y sienta súper bien. En mi primer paseo se llevó dos piropos"
Prendas especiales ♥
"Me ha gustado mucho, además es una pieza única un capricho de gran calidad y diseño. Repetiré seguro."
ENAMORADA
"Es tan gustoso! Tan bonito… in love"
ARTE
"Una prenda muy bien trabajada, con un diseño especial que hace que de vida a cualquier prenda con la que te la pongas. Puro Arte."
7.ROOMS asumirá el coste de las devoluciones en España en compras superiores a 55€ en península y Baleares . El plazo es de 30 días. Los productos o prendas hechos por encargo no podrán ser devueltos. Si tienes dudas puedes consultar nuestra política de devoluciones.
Lamentablemente, en este momento todavía no podemos ofrecer envíos gratuitos y devoluciones gratuitas para todos los pedidos. Estamos trabajando duro para habilitar esta magnífica oferta para todos nuestros clientes, y esperamos que llegue muy pronto.
Mientras tanto, las siguientes tarifas de envío se aplican a pedidos fuera de España:
Países de la UE (4 - 7 días): 20 €
Resto del mundo (10 - 20 días): 40